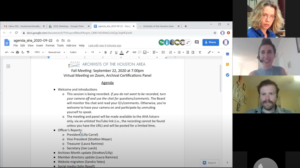 By Joe Lueck, AHA! Secretary
On September 22, 2020, the members of AHA! convened virtually for the second general meeting of the year. The AHA! board overviewed ongoing and future initiatives, including a slate of exciting Archives Month programming for October. Watch your inbox for more information in the coming weeks! If you're not on the AHA! listserv and are interested in becoming a member, contact the board at houstonarchivists@gmail.com.
Following the business meeting, archivists and AHA! members John Rovell, Sandra Yates, and Amanda Focke shared their experiences and thoughts on the Certified Archivist (CA) and Digital Archives Specialist (DAS) certification programs. The panelists discussed skills and lessons learned, the costs and benefits of each certification program, and answered questions from the group, offering advice to prospective certificate seekers.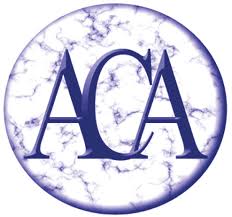 The Certified Archivist certification is offered by the Academy of Certified Archivists, an independent organization made up of professional archivists. Obtaining this certification involves coursework, professional service, and passage of an exam covering all aspects of archival enterprise.
The Digital Archives Specialist certification is offered by the Society of American Archivists. This certification pertains specifically to working with born-digital records, involving a customizable curriculum of coursework and a cumulative final exam.
Thank you again to our panelists! If you are interested in viewing a recording of the meeting and panel, contact the AHA! board at houstonarchivists@gmail.com.