Monday, February 13, Time: 12:00 pm – 1:00 pm, Zoom
Thanks to everyone who attended our Spring Meeting! It was a packed zoom. It's always great to see everyone. We covered a lot in our first meeting of the year. The agenda, slides, and chat are available at the end of the post. The presentation slides link out to important information and planning documents.
Special thanks to our guest speakers of from the City of San Antonio, Office of Historic Preservation
Jessica Anderson, Senior Historic Preservation Specialist
Rachel Rettaliata, Senior Historic Preservation Specialist
Jenny Hay, ScoutSA Program Manager
There's a Story Here
Using ArcGIS and maps that allows community members to share historically relevant stories that are interesting and relevant to the space or location. For more information, https://www.sanantonio.gov/historic/Local-Historical-Markers/Story-Here.
Presentation Slides: https://drive.google.com/file/d/1YJnPYNqcWNBDsRMmXw7LLatZSUUPRzzK/view?usp=sharing
Zoom Chat: https://drive.google.com/file/d/1abJEKFc8Fde0DnLL-WoB1DwtIfGCYYXf/view?usp=sharing
Video: https://youtu.be/BXHhg7sMqn4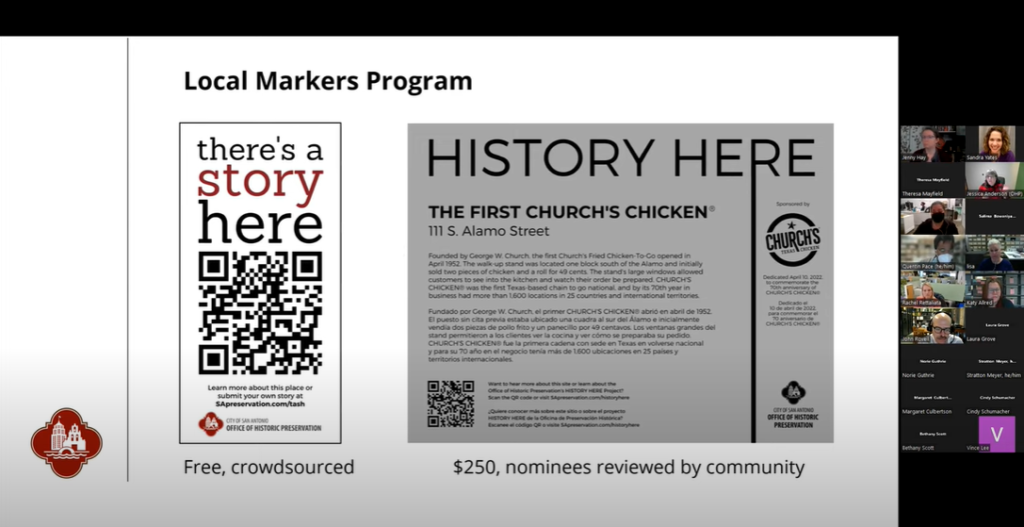 Agenda
Welcome & Introductions
Guest Speakers: There's a Story Here, City of San Antonio, Office of Historic Preservation
President's Report
Vice President's Report
Treasurer's Report
Programming Committee Report
Social Media Report
The Orange Show presents Old, Weird Houston
Old Business
New Business